05/12/2020
COVID-19 Update
By Mr. Lafitte Holmes, APRN, ACNS-BC
As SA Premier continues to provide evidence-based practice care to our community, we have implemented additional safety measures to keep our patients safe.
Our three office locations continue to operate within our normal business hours, including the WW White location. We will reopen Saturday walk-in clinic this weekend May 16, 2020.In an effort to maintain a clean and safe environment at all our locations.
Our Floresville location, we will not see any patient with fever, or upper or lower respiratory tract symptoms (cough, fever, postnasal drip, sore throat, or sinus congestion).
Our Southcross and WW White locations will see all patients. All Patients will be pre-screened outside, prior to entering our practice locations. Any patients presenting with fever, or the above respiratory tract symptoms will be seen and treated in an ancillary location outside the main office, to prevent potential symptom transmission from any sick patients.
Please follow guidance from our posted signs and our staff members when arriving to the offices for treatment.
As always, please call for any questions – 210 447-3033, 210 648-9500
Thank you for allowing us to continue caring for your medical needs.

____________________________________________________
04/08/2020
COVID-19 / Global Pandemic
Update for San Antonio Premier Internal Medicine
By Mr. Lafitte Holmes, APRN, ACNS-BC
April 8th, 2020
San Antonio Premier Internal Medicine is still open to meet the care of our established patients, and currently continue to schedule new patients with urgent and chronic medical needs during this global pandemic. We have implemented a few protocols for your safety and safety of our staff. We will continue to see scheduled and walk-in patients with upper respiratory symptoms at our Southcross BLVD location and patient with routine follow ups, and other urgent care needs that do not involve cough, fever or shortness of breath, will be seen at our WW White Road and Floresville locations.
Please if you have questions call us on our triage line M-F 0800 – 1700 at 2103284212 or at our practice locations (210) 447-3033 or (210) 648-9500.

The City of San Antonio and Bexar county has extended the shelter in place order until April 30th, 2020. The Center for Disease Control and Prevention (CDC), recommend cloth mask for any person going out in public. This does not provide the same protection as surgical and OSHA standard N95 mask, so please continue to practice social distancing. You will see this practice within our office, please be mindful of signs and staff instructions. We recommend all staff wear cloth facial covering when they enter into the clinic. We will continue to allow patients only in the office at the time of the appointments; No guest, unless the patient needs an escort due to mental or physical disability.
Helpful links:
https://www.sanantonio.gov/Health/News/Alerts/CoronaVirus
https://www.cdc.gov/coronavirus/2019-ncov/index.html
Reference
Sheposh, R. (2020). Coronavirus 2019 (COVID-19). Salem Press Encyclopedia of Health.
____________________________________________________
03/18/2020
By Mr. Lafitte Holmes, APRN, ACNS-BC
For the latest updates on the coronavirus pandemic, please refer to the ongoing updates on the CDC website and your local health department website. This is the latest and most accurate updates that our practice is adhering to.
https://www.sanantonio.gov/health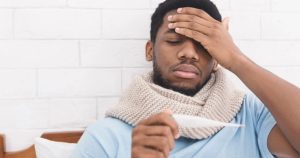 What to do if you're sick?
Please call our office
In order to protect the health of our patients, our practice will implement the following practice protocol.
Until further notice:
Any patients with upper respiratory illnesses with or without fever (cough, sore throat, shortness of breath, allergy and cold symptoms) will be seen at our Southcross (210) 648-9500 office location only.
*****Any patient with severe respiratory distress please go to the emergency room, you must call them prior to arrival*****
All previously schedule appointments for routine follow up and walk-ins without upper respiratory symptoms will be seen at your WW White office (210-447-3033) location.
We will only allow patients in our office who have an appointment – NO GUEST. If a patient has a disability that requires assistance, they may have a guest escort, however they must be screened prior to entry into our office.
Please call for any questions of concerns (210) 922-1850 or (210) 447-3033
You may also visit our Facebook page for more up to date information and we will also answer questions there.
https://www.facebook.com/San-Antonio-Premier-Internal-Medicine-118839804872602/
Also you may leave your comments using the "Leave a Reply" section at the bottom of this page.
Thank You,
San Antonio Premier Internal Medicine Administration
All scheduled appointments previously scheduled at either location or walk-ins that do not have upper respiratory symptoms will be seen at our WW White office.
For any questions please call (210) 922-1850 or (210) 447-3033.